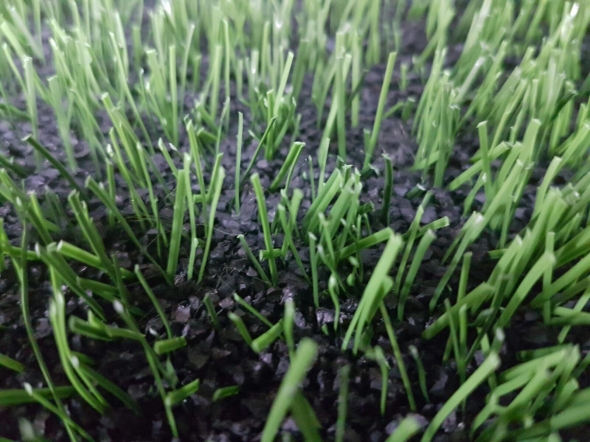 by Eric O'Donnell, Managing Director
It's not new
Let's face it, non-filled turf has been around since 1966, so it is not a new concept to the turf industry. AstroTurf can claim the rights to inventing the first non-filled artificial turf for the Huston Astrodome back in the day.

Naturally, things have evolved in the last 50 years, and the exponential rise in football turf since its introduction in the late 1990s has been a game-changer for long pile artificial turf. Globally, thousands of surfaces are installed to cater to the unquenchable demand for high-quality playing fields as the soccer-playing community now tops 250,000,000m.
That said, we have not seen many successful excursions into non-filled turf surfaces. However, one recent driver for this might be the concern over the use of recycled tyre derivatives as an infill matrix to underpin the performance of the artificial surface and make it feel more like playing on natural turf. In a process that removes steel and tire cord from scrap tires, rubber is granulated into small pieces referred to as crumb of around 1mm size. The final product is used as the performance infill for the pitch.
What are the issues with non-filled turf?

High-value products
Non-filled turf demands more constituent product, specifically the yarn/fibre which acts as the playing surface interface with the athlete on the turf. The higher face weight is used to make up for the lack of stabilising/performing infill materials in non-filled turfs. Many products are produced with a thatch or root zone where a thick texturised monofilament underlayer of fibre is turfed/woven into the backing to create a matrix that effectively provides body to the turf. The pile which is tufted through the root zone is the part of the turf on which the ball most interacts. Players will interact mostly with the thatch or root zone. The increased volume of fibre material makes it more expensive
Player/surface stability
Stability is a crucial property for any artificial turf system. Filled turf systems provide a relatively stable platform for player/surface interactions due to the use and layering of rubber granulate and fine sands. Underfoot stability is one area which has been poorly researched by the industry, yet it is an issue that players on artificial turfs often highlight in feedback studies.

Non-filled turf must provide a stable platform without the presence of infill materials. Stability relies on the high face weight in which products are turfed or woven. When you compare the two systems; filled and non-filled, typically, face weights (the amount of yarn/fibre in the artificial turf would be noted to be in the region of 4,000/g/m2, filled surfaces range from 1,300/g/m2 to 1,700/g/m2 in face weight.

Fibre/yarn integrity
A problem noted with non-filled surfaces is they can go flat early in the life of the field meaning, the fibre/pile compacts and loses its ability to recover after loading. After hundreds of thousands of loadings, the pile cannot recover or remain erect. The artificial turf collapses and loses its sports technical functions, becoming less player/surface and ball/surface friendly.
Dimensional stability
Another problem is the overall dimensional stability of the product. Infill such as sand provides ballast to the turf system and not only pushes the fibre up to be erect but acts as a reinforcing element within the turf. This system makes filled artificial turf for football relatively stable, especially in 50mm+ pile height versions. Replicating this stability in non-filled turf is not easy to do, there are some strategies can be employed to improve this. One solution could be to use an action back to reinforce the backing where a polyester scrim is turfed/woven into the turf system. This can act to stabilise the turf when installed in a field. Using polyurethane scape coats or lacquer has proven successful in one or two methods.

Compliance with global governing body standards
Compliance is tricky for many reasons. It is a fact that by virtue of a non-filled product containing so much yarn/fibre, the coefficient of friction between skin and the plastic filaments which make up the turf is relatively high. Players mainly experience abrasions caused by turf (both natural and artificial), but when presented with a lot of fibre against the skin in impact/sliding movements, the skin will bear the brunt of both the force and speed of impacts. Therefore, skin abrasions are one area that non-filled turfs find challenging to address, especially when it comes to complying with Global Governing Body requirements. It is also challenging to regulate the rotational resistance of non-filled surfaces where they yield low values against pre-set limits.

In this regard then, is there a case for a particular development category for non-filled turf because the market wants to move away from turf systems containing recycled rubber tyres? This topic is something for the Global Governing Bodies to consider. Indeed, there is a need for feedback from the playing community, and invitations to express views on the use of non-filled turf for competitive games. Player support would be fundamental to the success of this category. Ideally, player feedback would drive innovation, possibly accelerating the acceptance of these systems.

The jury is out - for now
The industry needs innovation and taking another look at non-filled turf is innovative because the turf systems recently developed have incorporated a step change, improved on previous iterations and dealing with some of the issues. What happens moving forward is key to the future of non-filled turf; It needs to move away from a marketing concept into the reality of a player approved playing surface?
What needs to happen to develop these surfaces?

Continuing development of the turf system is a must. By using new yarns/fibres, addressing the issues of skin abrasion and stability, non-filled turfs can become a realistic option for Clubs. The bottom line is there needs to be more research and development on non-filled turf systems.


Player feedback is critical. Taking into consideration the opinions, ratings, and views of the players to benchmark the pros and cons of these surfaces is vital to the development of non-filled turfs.


Ongoing monitoring of installations is critical. Putting in place systems where a regime of inspections and tests monitors non-filled surfaces to index their ongoing performance and indexes their playing characteristics would go a long way to providing the information on sports technical performance which could help to organise early interventions to deal with any issues observed. It is advantageous to be proactive with a Client body and show commitment to address the problems as they occur.